MRI Scan Reads And Interpretations From $20+ Per Study

MRI Teleradiology Services From NDI
Remote Magnetic Resonance Imaging Scan Reading Services, Off-Site MRI Diagnostic Interpretations and Outsourced MRI Study Reporting Services
Remote magnetic resonance imaging (MRI) scan reading and diagnostic interpretation service prices start at $20 per study. MRI second opinion fees start at $300.
You can get fast and accurate MRI interpretations online from National Diagnostic Imaging.
Subspecialty trained radiologists at NDI read and systematically review magnetic resonance imaging (MRI) examination scans of the brain, heart, lumbar spine, cervical spine (neck), knee and prostate.
NDI radiologists interpret MRI exams of the shoulder, breast, pituitary gland, ankle, abdomen and thoracic spine.
US board certified radiologists at NDI use MRI tests to diagnose appendicitis in pregnancy, tumors, breast cancer, prostate cancer, meniscus tears, ACL tears and knee pain.
NDI fellowship trained radiologists read MRI scans to detect sports hernia, stroke, renal masses, kidney cysts, rotator cuff tear and pituitary gland tumors.  NDI radiologists interpret functional magnetic resonance imaging (fMRI) scans used to measure brain activity.
How To Request An MRI Interpretation Or MRI Reading Services
To request rates for an MRI read or MRI teleradiology services please call 216-514-1199, email info@ndximaging.com or complete the form below.
MRI Reading and Interpretation Services From NDI
MRI imaging specialists at NDI provide hospitals, radiology groups, clinics and private individuals with reliable MRI results reading and quick turnaround times. MRI is the most frequently used imaging test of the brain and spinal cord.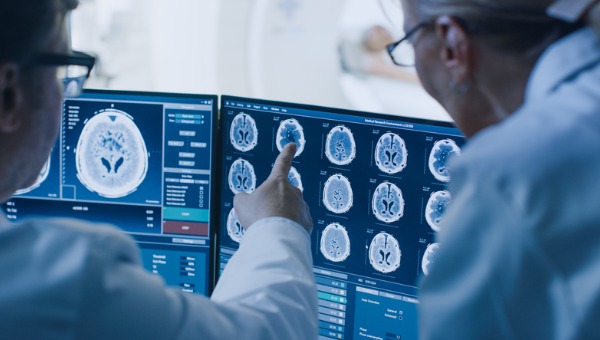 Types Of MRI Studies And MRI Tests Read And Interpreted By NDI Radiologists
MRI Brain/Head Interpretations
MRI Lumbar Interpretations
MRI Thoracic Interpretations
MRI Cervical Interpretations
MRI Pituitary​ Interpretations
MRI Breast Interpretations
MRI Kidney, Abdomen (Body) Interpretations
MRI Wrist, Elbow, Knee, Shoulder (MSK Studies) Interpretations
MRI Pelvis Interpretations
MRI Femur Interpretations
MRI Sacrum Interpretations
MRI Thigh Interpretations
National Diagnostic Imaging provides MRI (Magnetic Resonance Imaging) imaging scan interpretations, MRI radiology reading services, MRI diagnostic imaging reporting, full body MRI scan interpretations, brain MRI reads and secondary MRI reads (second opinions) via teleradiology in all 50 states.
The easiest way to get access to teleradiology services in the United States is to call National Diagnostic Imaging at 1-800-950-5257 or email info@ndximaging.com.
NDI provides radiology image interpretations via teleradiology. Imaging scan studies are read on behalf of imaging centers, private individuals, physicians, radiologists, hospitals, office-based imaging practices and outpatient clinics.  Mobile imaging studies are welcomed, and we take the time to provide accurate detailed reports.
National Diagnostic Imaging prides itself in providing customized turn-around times for routine, priority, and STAT reports (critical/urgent) at no additional charge. Daytime and nighttime MRI reading services are available.
Secondary MRI reads and MRI interpretations for private individuals are available.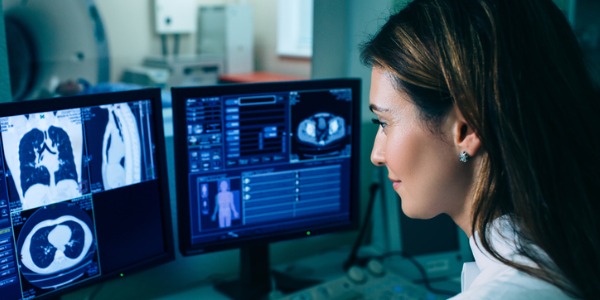 Doctors at NDI Read MRIs To Analyze Body Structures And Spot Abnormalities
MRI scans are not only interpreted by the referring physician who orders the scan, but also by radiologists at NDI, who are U.S. based physicians that specialize in the interpretation of these images.
National Diagnostic Imaging is a physician-owned teleradiology service provider. Our teleradiology company specializes in providing diagnostic reading services for MRI exam images at very competitive rates. Our board certified, subspecialty trained radiologists interpret images of organs, spines, brains, bones, tissues and structures inside the body.
If your are an individual that needs an MRI interpreted, or your organization is looking for a teleradiology solution for your MRI diagnostic interpretations, please call 1-800-950-5257 toll free or click here for prices for our MRI scan diagnostic reading and reporting service.
NDI Breast MRI Interpretations And Reading Services
One alternative to mammography, Breast MRI or contrast enhanced magnetic resonance imaging (MRI), has shown substantial progress in the detection of breast cancer.
Breast MRI (magnetic resonance imaging) uses radio waves and strong magnets to make detailed pictures of the inside of the breast.
Breast MRI studies are interpreted by National Diagnostic Imaging US board certified radiologists with expertise in breast imaging, including mammographic and US studies, because examinations are often complementary.
NDI Cardiac MRI Interpretations And Reading Services
Cardiac magnetic resonance imaging (cardiac MRI), also known as cardiovascular MRI, is a magnetic resonance imaging (MRI) technology used for non-invasive assessment of the function and structure of the cardiovascular system.
Conditions in which it is performed include congenital heart disease, cardiomyopathies and valvular heart disease, diseases of the aorta such as dissection, aneurysm and coarctation, coronary heart disease and it can be used to look at pulmonary veins.
Cardiac MRI identifies different myocardial disorders, provides prognostic information, and directs therapy. In comparison with other imaging modalities, cardiac MRI has the advantage of allowing both functional assessment and tissues characterization in a single examination without the use of ionizing radiation.
NDI cardiovascular radiologists interpret cardiovascular magnetic resonance (CMR) imaging scans and pictures in order to detect heart problems, monitor cardiac disease and to examine and evaluate coronary blood vessels, veins, valves and the heart's anatomy.
Radiologists at NDI read cardiac MRIs to assess the structure and function of the cardiovascular system in patients with congenital heart disease.
MRI reading services are used to determine if heart artery blockages are the cause of a patient's chest pain (angina).
NDI cardiovascular radiologists that read cardiac MRIs can accurately detect blockages in coronary arteries.
---
Cardiac MRI scan of a heart beating in high resolution – ECG gated CMRI in HD – real time scan
Posted on YouTube.com on February 11, 2011 by mushin111

---
Hospitals, physician groups and private individuals pay NDI an MRI reading fee to help diagnose diseases of the pericardium (outer lining of the heart muscle) such as constrictive pericarditis.
The doctors at NDI interpret MRIs to evaluate pericardial diseases, particularly inflammation and constriction, because MRIs provide functional and morphologic data that are key to deciding upon the best therapeutic strategy.
New, advanced MRI techniques are being used to to determine susceptibility of multiple sclerosis (MS) progression by measuring brain iron levels.
Radiologists at NDI are experts at reading MRIs to detect and/or diagnose heart valve disorders, such as regurgitation.
NDI Brain And Head MRI Scan Interpretations And Reading Services
The radiologists at NDI read brain and brain stem MRI scans to detect brain tumors, cysts, swelling, infections, developmental and structural abnormalities, aneurysms, damage caused by strokes, inflammatory conditions, injury to optic and auditory nerves and  bleeding in the brain.
NDI doctors use brain MRI scans to look for conditions such as bleeding, swelling, problems with the way the brain developed, tumors, infections, inflammation, damage from an injury or a stroke, or problems with the blood vessels. Brain magnetic resonance imaging scans help NDI neuroradiologists look for causes of headaches or seizures.
Physicians at NDI read MRI scans to evaluate patients that complain of weakness, seizures, dizziness, blurred vision, ongoing headaches and persistent diseases of the nervous system such as MS (multiple sclerosis).
New, advanced MRI techniques (quantitative susceptibility mapping) are being used to to determine susceptibility of multiple sclerosis (MS) progression by measuring brain iron levels.
In some instances, MRI is the best way to view tumors and diagnose problems with the brain stem and pituitary gland. MRIs provide clean pictures of components of the brain that can not be viewed as accurately with ultrasound, CAT scans or X-rays.  Except for neurosurgery, an MRI provides the best look beneath the skull.
Click here to watch a video of an MRI scan of a person's brain.  To learn more about understanding the results of an MRI, how MRI works and what the term means, click here.
Functional Magnetic Resonance Imaging
Functional magnetic resonance imaging (fMRI) measures the small changes in blood flow that occur with brain activity.
Functional magnetic resonance imaging or functional MRI measures brain activity by detecting changes associated with blood flow. This technique relies on the fact that cerebral blood flow and neuronal activation are coupled. When an area of the brain is in use, blood flow to that region also increases.
How To Read An MRI Of The Brain
Posted On YouTube On March 17, 2019 by First Look MRI
Dr. Brian Gay provides an easy to understand explanation of an MRI brain scan and how to read it.
NDI Spinal MRI Interpretations And Reading Services
An MRI examination of the spine displays the anatomy of the vertebrae that compose the spine, ligaments that bind the vertebrae together, along with the disks, spinal cord and the openings between the vertebrae where nerves pass.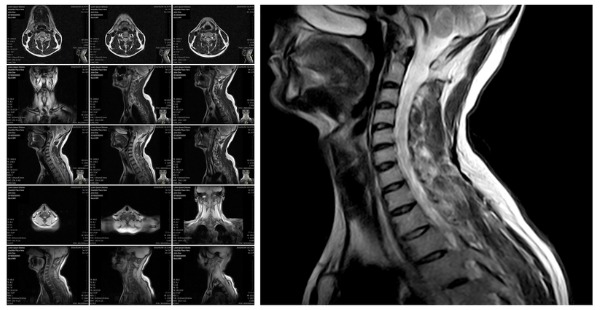 Patient symptoms that prompt physicians to recommend spinal MRIs include back pain coinciding with fever, signs of brain or spinal cancer, lower back injuries, chronic back pain, MS, bladder problems and weakness or numbness in legs and bladder problems.  An MRI is a very sensitive imaging test of the spine commonly used in typical clinical practice.
Radiologists at NDI read and interpret spine, thoracic, cervical and lumbar (lower spine and back) MRIs to identify degenerative disc disease, herniated discs and spinal stenosis.  A lumbar MRI specifically examines the lumbar section of the spine. This is the area where back problems typically originate.
Radiologists at NDI read MRIs to detect ruptured/herniated/bulging discs or to determine if a disc is being pressed against a nerve such as the sciatic nerve. Dr. Berns and his staff read MRIs to find tumors affecting the nerves or bones of the spine. Types of cancer that are commonly detected by teleradiologists at NDI in the spine spread there from the prostate, lungs or breasts.
Radiologists at NDI frequently detect compression fractures of the spine while reading MRIs. Docs at NDI look for joint inflammation, bony overgrowth, spinal cord tumors, abscesses, arthritis and bone loss when reading MRIs. Radiologists at NDI look for areas of the spine that have  poor blood supply, an infection, nerve damage or congenital problems.
Dr. Gillard Lectures On How to Read Your Lumbar MRI
Posted On YouTube On August 22, 2014 By Douglas Gillard, DC, Professor of Clinical Science
MRI Teleradiology Services
We offer our MRI teleradiology services to the following types of medical facilities that use MRI machines and scanners:
Imaging Centers
Mobile MRI Units
Outpatient Clinics
Physician Groups
Specialty Clinics and Multispecialty Clinics
Urgent Care Centers
Office-Based Imaging Practices
Private Practices
Small To Medium Size Hospitals
Mobile/MRI/CT/ Services
Independent Diagnostic Testing Facilities (IDTFs)
MRI Scans
Our firm has the expertise and technology required to read images created by the following types of MRI scans:
Traditional Closed MRI Scans
Open MRI Scans
Standing or Sitting MRI Scans
High-field MRI Scans
Low-field MRI Scans
Computed Tomography Angiography (CCTA) and Multi-Slice Computed Tomography
Cardiac CTA
CT Scans (A computed tomography scan uses computer-processed combinations of many X-ray measurements)
Types of MRI Scans
Our radiologists can read and interpret the following types of MRI images and scans:
MRI Scans of the Prostate
Brain and Brain Stem Scans
Bone and joint MRI Scans
Spine MRI images
MRI scans to detect torn ligaments
MRI scans to detect and/or diagnose heart muscle diseases such as heart failure or enlargement of the heart
Open MRI scans
Extremity MRI scans
MRI scans of the head
3 Tesla (3T) MRI scans
MRI scans of the chest
Head and neck MRI scans
Scans of Bones and Joints
Chest Scans
Breast MRI scans
Abdominal and Pelvis MRI scans (To Detect Problems with Organs, Gallbladder, Liver, Uterus, Ovaries, Pancreas, Spleen, Kidneys and Adrenals)
Magnetic Resonance Image (MRI) scans
MRI scans used in Oncology to investigate  and study tumors
Abdomen and pelvis MRI scans
Functional Magnetic Resonance Imaging (fMRI) scans of the brain for Neuroradiology
National Diagnostic Imaging prides itself in providing routine, priority and STAT reports (immediate) at no additional charge.   NDI provides 24/7/365 services for MRI scans.  We offer turnaround times customized for our customers for MRI report delivery and personalized service.
Remote MRI reading and diagnostic image interpretation service prices start at $20.00 per study dependent upon volume.
If your organization is looking for a teleradiology solution for your MRI diagnostic interpretations, please call 1-800-950-5257 toll free or click here for prices for our MRI scan diagnostic reading and reporting service.
About MRI Examinations
MRI stands for magnetic resonance imagery. This type of scan uses radio waves and magnets to create images. Magnetic resonance imaging (MRI) is a noninvasive test doctors use to diagnose medical conditions.
Magnetic resonance imaging (MRI) is a medical imaging technique that uses a magnetic field and computer-generated radio waves to create detailed images of the organs and tissues in your body.
Most MRI machines are large, tube-shaped magnets. When you lie inside an MRI machine, the magnetic field temporarily realigns water molecules in your body. Radio waves cause these aligned atoms to produce faint signals, which are used to create cross-sectional MRI images — like slices in a loaf of bread.
The MRI machine can also produce 3D images that can be viewed from different angles.
Patient MRI FAQs

How To Interpret The Results Of Your MRI (For Patients)
Magnetic resonance imaging (MRI) is a medical imaging technique that uses a magnetic field and computer-generated radio waves to create detailed images of the organs and tissues in your body. Most MRI machines are large, tube-shaped magnets.
What Happens During An MRI Examination?
Posted On YouTube On March 10, 2021 by Siemens Healthineers
MRI can be used to detect brain tumors, traumatic brain injury, developmental anomalies, multiple sclerosis, stroke, dementia, infection, and the causes of headache.
The MRI scan is used to investigate or diagnose conditions that affect soft tissue, such as:
Tumors, including cancer.
Soft tissue injuries such as damaged ligaments.
Joint injury or disease.
Spinal injury or disease.
Injury or disease of internal organs including the brain, heart and digestive organs.
Magnetic resonance imaging (MRI) uses a large magnet and radio waves to look at organs and structures inside your body. Health care professionals use MRI scans to diagnose a variety of conditions, from torn ligaments to tumors. MRIs are very useful for examining the brain and spinal cord.
How Quickly Do You Get MRI Results?
After your MRI scan, a radiologist will analyze the images. The radiologist will send a signed report to your primary healthcare provider, who will share the results with you. The report is usually ready for your healthcare provider within one or two days.
Can You Read Your Own MRI Disc?
Most modern MRI centers can give you a copy of your MRI on a disc or flash drive after your appointment. While only your doctor can make a diagnosis based on the image, viewing and analyzing your MRI at home is easy!
Can You Read MRI Results Immediately?
The results from an MRI scan are typically interpreted within 24 hours, and the scans themselves are usually given immediately to the patient on a disc after the MRI is complete.
What Is An Abnormal Brain MRI Result?
In the simplest terms, an abnormal brain MRI means that the scan does not show a healthy brain. The scanned image may show structural damages that may indicate injury but also lesions, inflammation, swelling, and bleeding.
Will An MRI Show Nerve Damage?
A neurological examination can diagnose nerve damage, but an MRI scan can pinpoint it. It's crucial to get tested if symptoms worsen to avoid any permanent nerve damage.
Most radiology images are in DICOM format, which has specifications for medical imaging. DICOM viewer applications allow patients to view their images on CD at home. Several DICOM viewer applications are available online, or the patient's radiologist may be able to suggest one to use.
What Does MS Look Like On MRI?
Sometimes MRI reports describe lesions as hyperintense, hypointense, or isointense. Hyperintense lesions are bright or white. In general, MS lesions are hyperintense or bright on T2 or FLAIR sequences. Hypointense lesions are dark or black.
What Color Is A Tumor On An MRI?
Dense tumor calcifications are black (signal voids) on MRI, but calcified foci are usually scattered within the soft tissue mass of a tumor, and not liable to be confused with a clear, normal sinus. As shown in Figure 3, this would not be a problem with CT, as calcifications on CT are dense (white).
MRI Interpretation CPT Codes
Current Procedural Terminology (CPT®) codes offer doctors and health care professionals a uniform language for coding medical services and procedures to streamline reporting, increase accuracy and efficiency.
MRI procedure codes are 70549, 70553, 70559, 71552, 72197, 73220, 73223, 73720, 73723, and 74183.
CPT 70552 can be reported for magnet resonance imaging (MRI) of the brain and pituitary, including the brain stem.
MRI Interpretation Courses
In this tutorial, you will learn the basic knowledge required for interpretation of MRI scans. The tutorial covers the basic physics necessary to understand how MRI images are formed. You will learn about the different types of MRI images commonly encountered and a systematic approach to image interpretation. Safety issues regarding the MRI scanner are also discussed.
MRI – Interpretation Essentials
An overview of MR imaging of the spine, shoulder, elbow, wrist, hip, knee and ankle.
Designed in a systematic learning format, the course covers imaging basics, normal anatomy, pathology and approach to interpretation of patterns of disease in the spine, shoulder, elbow, wrist, hip, knee and ankle. Each module is composed of a didactic lecture followed by an interactive case review session to reinforce fundamental principles of imaging interpretation.
MRI online course (Magnetic Resonance Imaging) – IMAIOS
Interactive course on the functioning and physics of MRI (Magnetic Resonance Imaging), nominated for an award by the French Society of Radiology.
MRI Interpretation PDFs
MRI Interpretation PPT
Contact National Diagnostic Imaging
Please contact National Diagnostic Imaging by calling 216-514-1199 or by sending an email to info@ndximaging.com.
About National Diagnostic Imaging
David H. Berns, M.D., the founder of National Diagnostic Imaging, is a well-respected authority on MRI and Neuroradiology.
He received his medical degree from Case Western Reserve University School of Medicine.
Accreditation Programs For Diagnostic Imaging Centers In The U.S.
ACR Accreditation is recognized as the gold standard in medical imaging. The ACR offers accreditation programs in CT, MRI, breast MRI, nuclear medicine and PET as mandated under the Medicare Improvements for Patients and Providers Act (MIPPA) as well as for modalities mandated under the Mammography Quality Standards Act (MQSA). Accreditation application and evaluation are typically completed within 90 days.
The ACR has accredited more than 39,000 facilities in 10 imaging modalities. They offer accreditation programs in Mammography, CT, MRI, Breast MRI, Nuclear Medicine and PET, Ultrasound, Breast Ultrasound and Stereotactic Breast Biopsy.
The Joint Review Committee on Education in Radiologic Technology (JRCERT) accredits educational programs in radiography, radiation therapy, magnetic resonance, and medical dosimetry.
The National Accreditation Program for Breast Centers (NAPBC) provides the structure and resources you need to develop and operate a high-quality breast center. Programs that are accredited by the NAPBC follow a model for organizing and managing a breast center to facilitate multidisciplinary, integrated, comprehensive breast cancer services.
Get information from the Centers for Medicare & Medicaid Services (CMS) about their requirements for accreditation of advanced diagnostic imaging suppliers, here.
The Intersocietal Accreditation Commission (IAC) is a nonprofit, nationally recognized accrediting organization. The IAC was founded by medical professionals to advance appropriate utilization, standardization and quality of diagnostic imaging and intervention-based procedures.
The IAC is a nonprofit organization in operation to evaluate and accredit facilities that provide diagnostic imaging and procedure-based modalities, thus improving the quality of patient care provided in private offices, clinics and hospitals where such services are performed.
With a 30-year history of offering medical accreditation to facilities within the U.S. and Canada, IAC is also now offering accreditation in international markets. The IAC programs for accreditation are dedicated to ensuring quality patient care and promoting health care and all support one common mission: Improving health care through accreditation®.
The ACVR is the American Veterinary Medical Association (AVMA) recognized veterinary specialty organization™ for certification of Radiology, Radiation Oncology and Equine Diagnostic Imaging.
If you are a radiology imaging service in the United States that is looking for a company that can provide daytime, nighttime, weekend and holiday coverage for your current and future case volume, contact National Diagnostic Imaging by phone at 216-514-1199 or by emailing info@ndximaging.com.