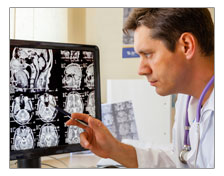 National Diagnostic Imaging (NDI) uses PACS software to provide teleradiology services to obtain and transmit radiological patient images, radiology exams and diagnostic studies, and to transmit interpretations and reports to referring physicians.  National Diagnostic Imaging provides a wide variety of teleradiology solutions for imaging centers, radiologists, hospitals, office-based imaging practices and outpatient clinics. Our radiology reading services are extremely popular with small outpatient imaging centers.  NDI's advanced teleradiology systems are HIPAA compliant, which helps to ensure patients' privacy.
In 2020, more institutions, mobile imaging companies, private practices, urgent care facilities, rural hospitals and community hospitals in the United States, are engaging full-service teleradiology providers such as NDI to benefit from cost savings. Teleradiology benefits include reduced costs, enhanced expertise and improved coverage. NDI helps diagnostic radiology providers transition some of their radiology expenses from fixed to variable costs. One of the most important benefits offered by NDI is the potential for sub-specialty reads by a trained provider. Additionally, medical imaging facilities, radiology administrators and outpatient diagnostic imaging centers are now using NDI's teleradiology services to help handle the COVID-19 pandemic. Due to COVID-19, private practices, imaging centers, radiology departments and practices are now using NDI's teleradiology services more than ever. More and more radiology practices and imaging institutions are using NDI teleradiology services to implement off-site reading into their normal workflow and to decrease their radiologist's exposure to SARS-CoV-2. Get information on teleradiology pricing here.
NDI is a radiology outsourcing company that provides remote radiology reading services and interpretation services via teleradiology. For additional information regarding our outsourced teleradiology imaging services, please use the links below or contact us.
Contact National Diagnostic Imaging
Please contact National Diagnostic Imaging by either calling the main office at (216)-514-1199, sending an email to info@ndximaging.com or, complete the form below to request a quote with the most competitive pricing in the industry.
Additional Information