NDI Teleradiology Company Clients And Reading Services

About National Diagnostic Imaging Teleradiology Company Clients
NDI clients include clinicians, other radiologists, imaging centers, individual patients, healthcare professionals, hospitals, mobile x-ray services, cardiologists, chiropractors, orthopedic surgeons and physicians.
NDI medical doctors are proficient at using imaging technology and diagnostic radiology to diagnose health problems.
Telemedicine experts at NDI accurately read and interpret patient CTs, MRIs, X-rays, ultrasound scans, musculoskeletal (MSK) ultrasounds, mammograms and echocardiograms for a fee. Teleradiology is one of the most advanced parts of telemedicine in the United States.
The easiest way to get access to teleradiology services in the United States is to call National Diagnostic Imaging at 1-800-950-5257 or email info@ndximaging.com.
Their opinions and diagnoses are completed quickly. To share the reports they write, NDI teleradiologists electronically transmit their findings and conclusions to the teleradiology customer's location by email and a PACS system.
In the US, private for-profit companies such as National Diagnostic Imaging, offer national teleradiology services (i.e., professional interpretation of radiologic studies of all types by American Board of Radiology certified radiologists).
NDI's initial focus for teleradiology was for partial, night (nighthawk) and vacation coverage of radiologic studies. Now the NDI teleradiology company provides full-time around-the-clock radiology coverage.
NDI's teleradiology reporting services currently provide 24/7/365 coverage for small hospitals, clinics, diagnostic imaging centers, emergency rooms, specialty medical practices and urgent care centers. The US teleradiology provider also offers subspecialty radiologic coverage that is not available at smaller medical clinics and centers.
How NDI Writes Radiology Reports
NDI diagnostic radiologists specialize in quickly and accurately interpreting radiology scans and imaging tests for private individuals and healthcare providers. NDI radiologists write reports using medical phrases that healthcare providers can comprehend.
Important Sections Of Radiology Reports Written By NDI Radiologists
Patient Name
Date Of Exam
Type Of Exam
Clinical Information
History/Reason For Exam
Comparison/Priors
Technique
Findings
Impression (Interpretation)
US-based radiologists at NDI write radiology reports for private individuals and also healthcare providers who ordered the exam.
NDI radiologists send the final radiology report to the referring physician or the person who ordered the test. NDI radiologists frequently write radiology reports that are second opinions.
NDI subspecialty trained radiologists also write radiology reports for quality assurance peer review purposes.
They use a PACS system and teleradiology to detect, describe and classify findings in medical images. They report their findings in paragraph form and lines. Learn how to read your radiology report, here.
NDI diagnostic radiologists specialize in quickly and accurately interpret radiology tests for private individuals and healthcare providers. They use a PACS system and teleradiology to detect, describe and classify findings in medical images.
Fellowship trained and US Board Certified radiologists at NDI report their findings in paragraph form and also use a reporting style where each organ or region of the body is listed as a line.
About NDI Radiology Reading Services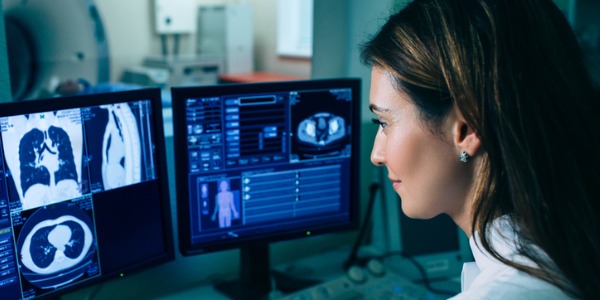 Teleradiology makes it easy for NDI radiologists to deliver quality radiologic interpretations to hospitals and other healthcare facilities facilities.
Quality and performance are key factors why our customers contract with us for outsourced teleradiology imaging services.
At National Diagnostic Imaging, our radiologists read numerous types of diagnostic radiology exams, scans and images. These include the following.
Musculoskeletal (MSK)
Mammography and Women's Imaging
Neuroradiology
X-Ray and Portable/Mobile X-Ray
Nuclear Diagnostics (PET, CT, SPECT/CT) and Mobile Nuclear Diagnostics
Orthopedic and Chiropractic Interpretations
Medical/Legal Overreads
NDI Is One Of The Top US-Based Teleradiology Companies
NDI provides radiology reading services via teleradiology in all 50 states.  NDI radiology reading fees start at $8 per study. NDI reads and interprets radiology reports, scans and images. The fellowship trained and US board certified NDI teleradiologists provide final radiology reads, outside reads and radiology second reads to our customers.
The Current State of Teleradiology Across the United States: A National Survey of Radiologists' Habits, Attitudes, and Perceptions on Teleradiology Practice
Journal of the American College of Radiology
Volume 16, Issue 12, December 2019, Pages 1677-1687
A national survey explored the current state of teleradiology practice, defined as the interpretation of imaging examinations at a different facility from where the examination was performed.
Despite historic concerns, teleradiology is widespread throughout modern radiology practice, helping practices achieve geographic, after-hours, and multispecialty coverage; reducing turnaround times; and expanding underserved access.
Nonetheless, quality assurance of offsite examinations remains necessary. IT integration solutions could help smaller practices achieve teleradiology's benefits.
Who Uses NDI Teleradiology Services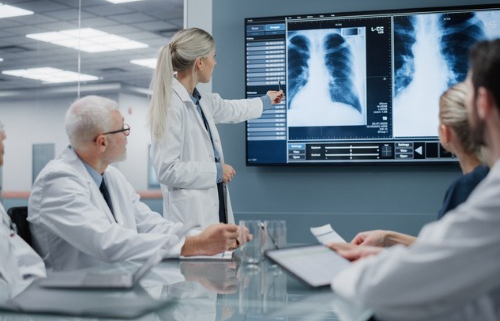 NDI provides remote radiology reading services, subspecialty interpretations and teleradiology services to a wide range of individuals and organizations including the following.
Radiologists
Referring Physicians and Doctors
Radiology Groups
Receiving Practitioners
Requesting Clinicians
Traditional Radiology Practices
OB/GYN Specialists & Practices
Prisons and Correctional Facilities
Orthopedists
Chiropractors
Neurologists
Military
Dentists
Medical Imaging Facilities
Radiologic Technologists and Technicians
Radiology Departments
Emergency Departments
Health Care Professionals
Urgent Care Centers
Imaging Centers
Outpatient Clinics
Specialty Clinics and Multispecialty Clinics
Office-Based Imaging Practices
Small To Medium Size Hospitals Including Rural Hospitals
Research Scientists
Academic Institutions
Insurance Companies
Attorneys
Legal Professionals
Medical Professionals
Primary Care Physicians
To request teleradiology prices and remote radiology reading rates, click here or call 216-514-1199.
Accreditation Programs For Diagnostic Imaging Centers In The U.S.
ACR Accreditation is recognized as the gold standard in medical imaging. The ACR offers accreditation programs in CT, MRI, breast MRI, nuclear medicine and PET as mandated under the Medicare Improvements for Patients and Providers Act (MIPPA) as well as for modalities mandated under the Mammography Quality Standards Act (MQSA). Accreditation application and evaluation are typically completed within 90 days.
The ACR has accredited more than 39,000 facilities in 10 imaging modalities. They offer accreditation programs in Mammography, CT, MRI, Breast MRI, Nuclear Medicine and PET, Ultrasound, Breast Ultrasound and Stereotactic Breast Biopsy.
The Joint Review Committee on Education in Radiologic Technology (JRCERT) accredits educational programs in radiography, radiation therapy, magnetic resonance, and medical dosimetry.
The National Accreditation Program for Breast Centers (NAPBC) provides the structure and resources you need to develop and operate a high-quality breast center. Programs that are accredited by the NAPBC follow a model for organizing and managing a breast center to facilitate multidisciplinary, integrated, comprehensive breast cancer services.
Get information from the Centers for Medicare & Medicaid Services (CMS) about their requirements for accreditation of advanced diagnostic imaging suppliers, here.
The Intersocietal Accreditation Commission (IAC) is a nonprofit, nationally recognized accrediting organization. The IAC was founded by medical professionals to advance appropriate utilization, standardization and quality of diagnostic imaging and intervention-based procedures.
The IAC is a nonprofit organization in operation to evaluate and accredit facilities that provide diagnostic imaging and procedure-based modalities, thus improving the quality of patient care provided in private offices, clinics and hospitals where such services are performed.
With a 30-year history of offering medical accreditation to facilities within the U.S. and Canada, IAC is also now offering accreditation in international markets. The IAC programs for accreditation are dedicated to ensuring quality patient care and promoting health care and all support one common mission: Improving health care through accreditation®.
The ACVR is the American Veterinary Medical Association (AVMA) recognized veterinary specialty organization™ for certification of Radiology, Radiation Oncology and Equine Diagnostic Imaging.
If you are a radiology imaging service in the United States that is looking for a company that can provide daytime, nighttime, weekend and holiday coverage for your current and future case volume, contact National Diagnostic Imaging by phone at 216-514-1199 or by emailing info@ndximaging.com.